The Choate Tables Story:
In 1987, I, James Choate, the founder of Choate Tables, began the study of chiropractic at Life Chiropractic College West (LCCW) in Hayward, CA. I found a home in this field, and knew that the rest of my life would be dedicated to a career in chiropractic. From the first time I stepped foot onto campus, I was charged from head to toe with excitement and de'ja vu! This campus was my old 7th grade stomping grounds, having previously been Barrett Jr. High. Back then I had no clue what chiropractic was, nor did I care! Little did I know that 5 years later my life would be transformed with chiropractic, starting with becoming a student at LCCW.
At the point of my senior year in high school, like most kids my age, I didn't know what I was going to do with my life. One thing I did know, though, was that I was not going to work for anyone else. It was during that time that I met a girl named Nancy while working out at the gym one day. She told me she was a student at the chiropractic college. I asked, "What is chiropractic"? She went on to tell me all about it, intriguing me to the point of my asking her lots of questions. As I found out that the college was my old jr. high school, it seemed fate to me. So, after graduating high school in 1984, I went full steam ahead to meet the prerequisites for LCCW as soon as I could. Three years later, in September of 1987, I began my chiropractic studies.
Right away I realized that I was going to need my own chiropractic table. In my spare time, during my first quarter, my father and I built my very first table. I was a poor student, living on a shoestring budget. Gratefully, the materials I needed for the table ended up being one of my Christmas presents that year! As the students and the college clubs got word of my table, they started to inquire about it. I made one, then another, and then another. It was so cool that my tables were getting popular!
To this day I have designed and hand crafted hundreds of my own chiropractic tables, as well as recovered many of the tables (other brands) for the doctors in the bay area.. I am well known around here as "The Table Guy". But I digress. Back to my first year and 4th quarter: I was in class doing setups and noticed that my wrist started to hurt. Of course, I thought it would eventually go away, and, of course, it did not. In fact, it only got worse - my wrist-bend range reduced from 45 degrees to 15 degrees. I got scared. My hands were my life! I went to get an X-Ray and found out that the problem was an avascular necrotic scaphoid. This was BAD. The bone was so bad the center was almost hollow. I freaked out. What was I going to do? I took time off from college to get the experimental operation. I was told that this operation had not been performed before, so naturally, I was extremely nervous. I recovered from the surgery "3mo" and was told to be easy on it. Actually, I was told, "Do not adjust with it!" So, it was back to the drawing board - and the official beginning of Choate Tables.
My vision was to have a chiropractor walk into another chiropractor's office and to know a "Choate Tables" by sight. Now, 20 years later, in 13 countries, having made thousands of tables and custom Choate supplies, I am still going strong - with no end in sight! I continue to recover and design new tables, strive to create top of the line equipment at an affordable price, and make sure that my customers are very satisfied with their purchase.
It has now been 20 years and every day I still get excited to get up and go to work building these tables and designing equipment for the chiropractic community. Thank you for your continued faith in me!
-James Choate- "The Table guy"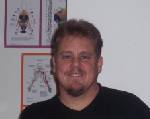 (510) 785-3825